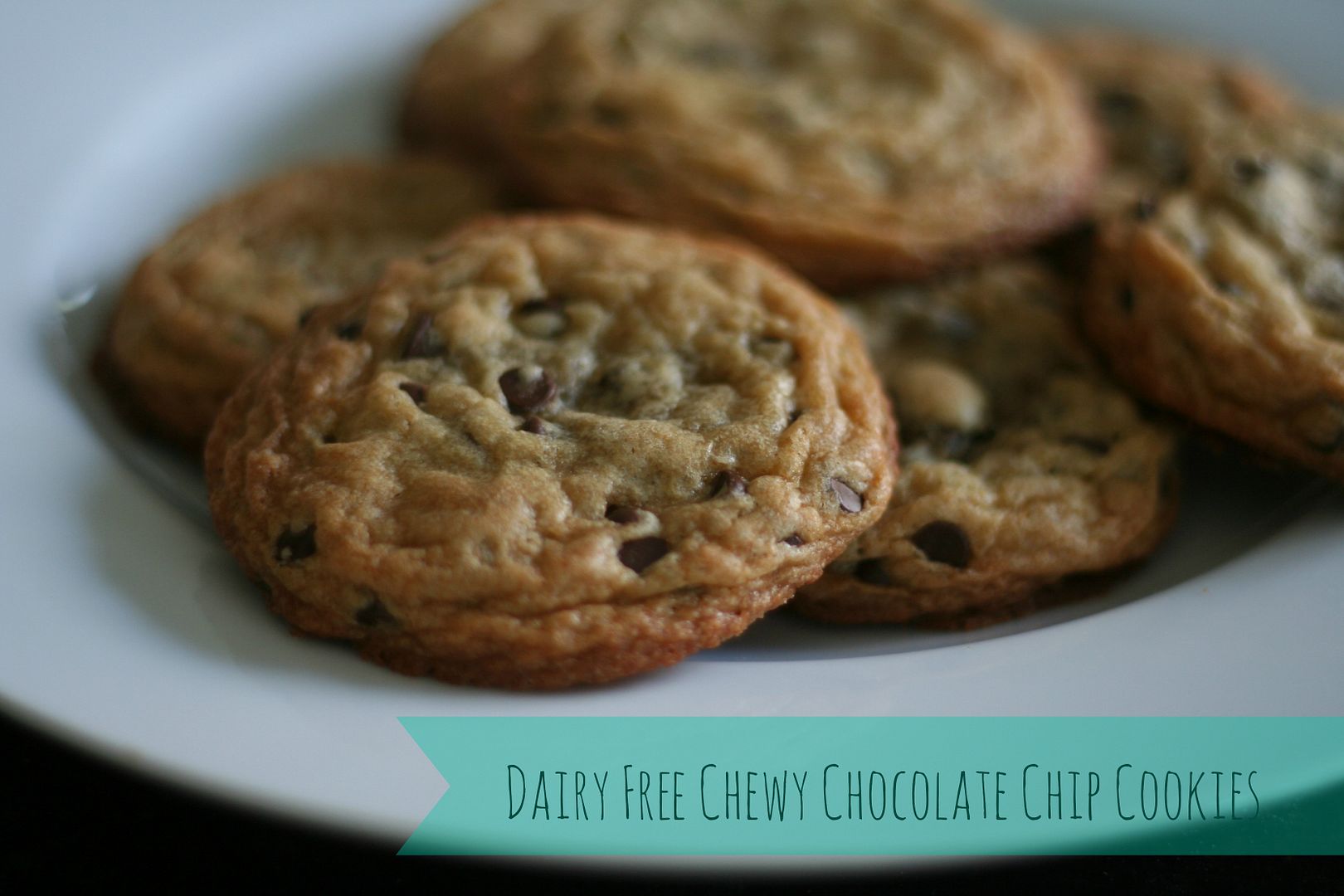 When my oldest daughter was about four months old, she started showing symptoms of a dairy sensitivity. Since I was nursing, I had to remove dairy from my diet completely. Her symptoms improved (and eventually she was cleared to try dairy and shows no symptoms now), but I was most impressed by how great I felt. No bloating, no sharp stomach pains, and I lost my baby weight (and then some!) so quickly when not eating dairy.
Since then (my daughter is 4 now), I've tried to avoid dairy for the most part. I don't go crazy trying to keep it out of my diet, but I do know that I feel so much better when I don't have it. I have really enjoyed discovering and trying alternatives to dairy, whether it be products or recipes.
A good friend recently made these dairy free chewy chocolate chip cookies using this recipe from Cheeky Kitchen. Now, if only I'd found this recipe 4 years ago when I first entered the world of dairy avoidance. These cookies are heavenly! The following recipe varies slightly from the original, but has been tweaked a tiny bit by me to make more cookies with the most perfect crispy edges and chewy texture. You can use regular chocolate chips if you aren't going extreme with the dairy avoidance, or you can use non-dairy chocolate chips. My favorite are the Enjoy Life brand.
Oh, and when washing your hands after rolling the dough into balls, the brown sugar makes for an excellent hand scrub. A mini spa treatment and whipping up ridiculously delicious chocolate chip cookies sans dairy? Now I call that a successful afternoon.

Dairy Free Chewy Chocolate Chip Cookies
1/2 cup coconut oil
2 eggs
1 1/2 cups brown sugar
1 3/4 cup flour
1/2 teaspoon salt
1 teaspoon baking powder
1/4 teaspoon baking soda
1 tablespoon vanilla
10 ounces dairy free mini chocolate chips
Preheat oven to 400 degrees.
In a large bowl, use an electric mixer or stand mixer to beat together coconut oil, eggs, and brown sugar until very well blended.
Add remaining ingredients, mixing together one by one until all are incorporated.
Measure dough by the tablespoon and roll into balls. Space a dozen dough balls per large cookie sheet and press each ball to flatten a bit.
Bake for 7-8 minutes. The edges of the cookies should be slightly browned.
Cool on cookie sheet for 3-4 minutes, then transfer to a wire rack and let the cookies finish cooling. Makes about 3 dozen cookies. Enjoy!