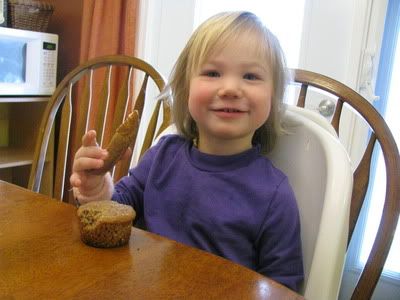 Like Drea and Aliesha, our family has been on a bit of a food journey in the past year and a half.
We've gone from having lots of white rice, white flour, white sugar, etc, to eating almost 100% whole grains.  I do a lot of baking, including all of our bread, and these fabulous muffins.
I know whole grain sometimes comes across as being dry cardboard texture, but these muffins are soft and moist.  My kids  gobble them up for breakfast or snacks, and I feel good knowing that they are getting healthy whole grains.
Whole Grain Banana Muffins – adapted from the Bread Becker's Cookbook
2 1/4 cups freshly milled hard red wheat (or just use regular whole wheat flour)
1 tsp salt
1 tsp baking powder
1 tsp baking soda
1 tsp cinnamon
2 bananas, mashed
1 cup Kefir (or use buttermilk)
1 egg
1/2 cup melted butter (or oil)
1/2 cup honey
1 tsp vanilla extract
1/4 cup millet (or add your favourite nuts)
3/4 cup chocolate chips
 Preheat oven to 400 degrees.  Whisk the dry ingredients together in a large bowl.  Then add liquids and whisk again.  Stir in millet and chocolate chips.  I use a large ice cream scoop to drop the batter into lined muffin tins.  Bake for 15-18 minutes.