I love, love, love wallpaper and stencils.  I could scour wallpaper books and websites for hours.  I love the boldness of a stencil and love the options that are available (and how stencils are a bit less "temporary" than wallpaper).  I know some people are a little uneasy about wallpaper and stencils and can't help think "80s/90s country style" when those two words are brought up.  Well, I must say, the two have come a long way and today's home decorating options using wallpaper and stencils are definitely fresh, modern, and endless.
Stencil – laundry room
(love the bright stripes!)
Stencil – bedroom
(stenciling behind the bed really highlights the headboard and makes a bold statement)
Source: cuttingedgestencils.com via Ashley on Pinterest
Wallpaper – office or other "personal" room
(what a fun pattern- so much character!)
Source: designyourwall.com via Ashley on Pinterest
Floor Stencil – big room
(Could I love this more? Probably not.
For the color-shy, a more subtle color would still make quite the statement)
Source: re-nest.com via Ashley on Pinterest
Wallpaper – little/big girl's room
(even one wall of a bold wallpaper in a little girl's room
would bring such a presentation without overdoing it)
Source: designpublic.com via Ashley on Pinterest
Ceiling Stencil – bathroom or other small space
(a stenciled ceiling is so fun and unexpected!)
Source: windhula.blogspot.com via Ashley on Pinterest
Stencil – nursery
(this was actually my daughter's nursery- feelin' sentimental about this one!)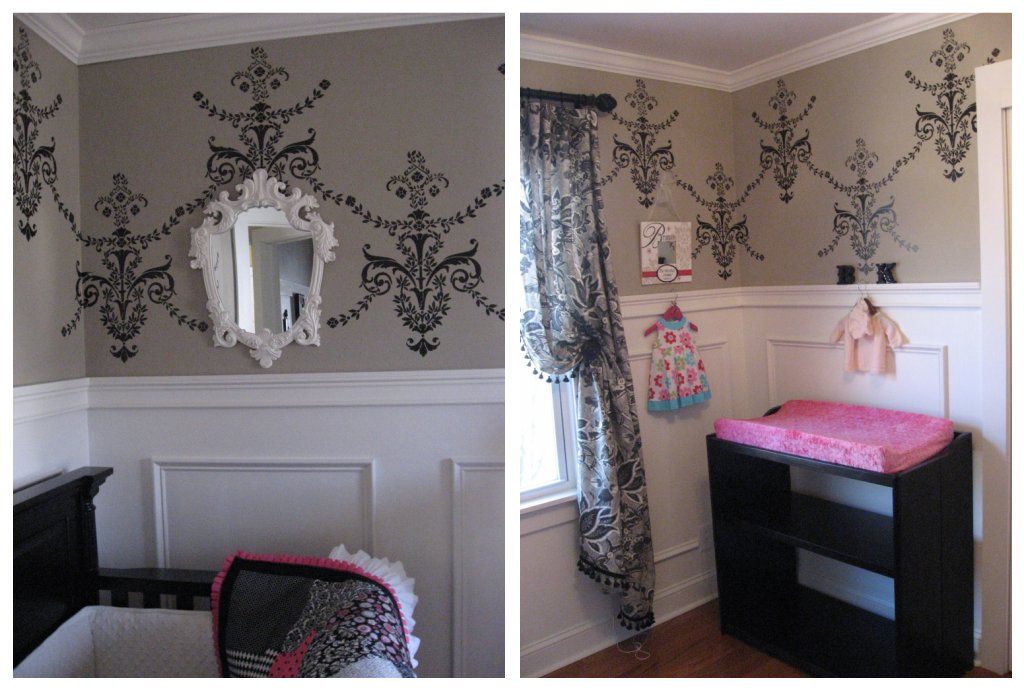 Wallpaper – bathroom or any small space
(love the boldness of this wallpaper, despite the small space… the mirror provides an interesting, continuous look)
Source: younghouselove.com via Ashley on Pinterest
Obviously, I'm a lover of floral-ish, damask, and geometric patterns, but even a simple stripe or chevron (or a soft tone-on-tone with a more "busy" pattern) make a simple, subtle change (or could even be a bold change using loud colors).  Or, try wallpapering or stenciling just one wall or one small space in a room (like the back of a bookcase or on a canvas and use it as an art piece).  I just bought some pretty, subtle, grey damask wallpaper for the back of our new (thanks, Dad!) living room built-ins.  I can't wait to (okay, okay, I can't wait to watch my mom/learn how to) put the wallpaper up and enjoy the hint of texture and character it will add.
{heart} It
For some more of my decorating finds, follow my "home and decor" board on Pinterest.  For stencils, check out Royal Design Studio or Cutting Edge Stencils.  For wallpaper, I love Design Your Wall, Discount Decorating, and good old Google searches including my favorite fabric designers (I love me a whole wall of Amy Butler goodness!) :)