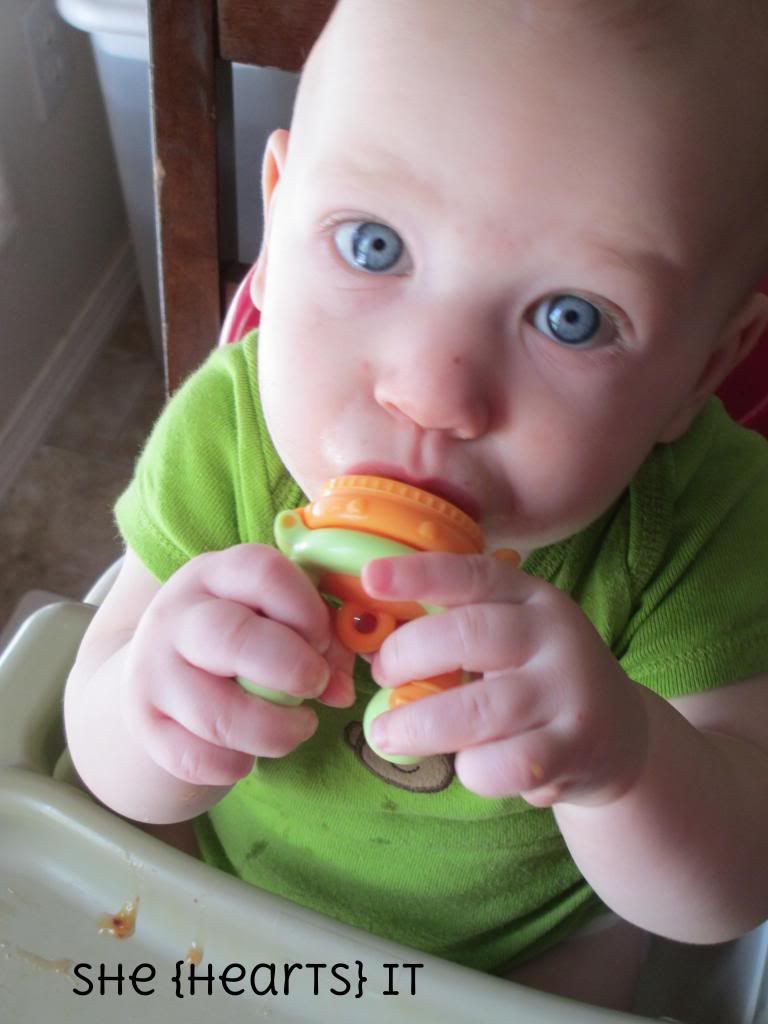 Kidsme feeder is an award winning baby feeder. The design is sleek- the silicone sac looks almost like a pacifier, with handles allowing baby a comfortable hold, and a lid that serves as a nice "practice cup."
Honestly I'm not sure how the silicone sac would hold up to teeth, which my other three all had by the time they began solids, but my guess would be not well long term (replacement sacs are available) /*update* company noted they have not had issues with teeth affecting sac/. However with Bo, who is still toothless at nearly 7 months, I've found the Kidsme Feeder to be a great transition from exclusively nursing to eating solids- particularly since I don't bother with baby food and just feed my babies off my plate. The feeder encouraged him to learn to chew without the danger of choking which especially gives my husband piece of mind. After using the feeder for a few weeks he now has been gumming bites like a pro by himself, though we still use it occasionally so he can easily self feed!
The feeder is dishwasher safe, and doubles as a teether- just pop in some ice or frozen food. Another thing I love is that the sac sizes are interchangeable, which means you can purchase one feeder in small or large and additional replacement sacs in the other size separately.
{heart} It
You can purchase your own Kidsme feeder small or large size in color of your choice from Amazon.com
"Like" Kidsme on facebook for product news and updates
Kidsmeusa.com – coming soon
She {hearts} Freebies
A winner from the U.S. will be chosen on 9/2/2013 at 7PM CST. 
Please see our Giveaway Rules for further details. Product Sample Provided